Baby it's cold outside....
Chef's Favourite Beef and Vegetable Stew
Ellerslie Events
---
If like us, you're feeling the major chill factor during these cooler months, you might want to give this delicious winter warmer a try.
Recommended to us by our fabulous executive chef, Paul Barrett (AKA "Chef"), we're certain this will chase away those winter blues and have you feeling all wrapped up in a cozy blanket of culinary bliss.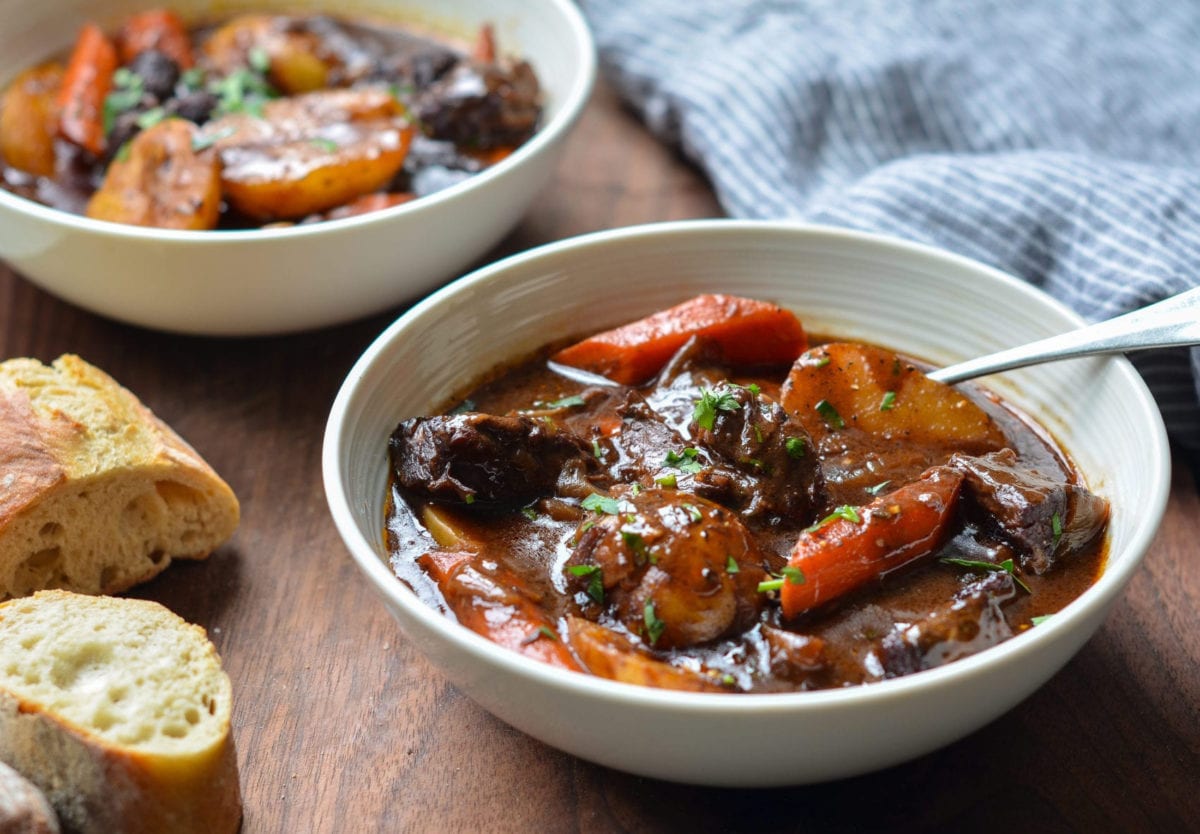 Chef's Favourite Beef and Vegetable Stew
Serves: 6
Total Time: 3 hours 30 minutes
INGREDIENTS
3kg boneless beef chuck steak, cut into approx. 4cm pieces
2 teaspoons salt
1 teaspoon freshly ground black pepper
3 tablespoons olive oil
2 medium onions, chopped into wedges
7 cloves garlic peeled and crushed
2 tablespoons balsamic vinegar
1½ tablespoons tomato paste
¼ cup all-purpose flour
2 cups red wine
2 cups beef stock
2 cups water
1 bay leaf
½ teaspoon dried thyme
1½ teaspoons sugar
4 large carrots, peeled and chopped (on a diagonal)
1kg small white boiling potatoes, cut in half
Fresh chopped parsley, for serving (optional)
INSTRUCTIONS
Preheat the oven to 170°C and set a rack in the lower middle position.
Pat the beef dry and season with salt and pepper. In a large Dutch oven or heavy soup pot, heat 1 tablespoon of the olive oil over medium-high heat until hot and shimmering. Brown the meat in 3 batches, turning with tongs, for about 5 minutes per batch; add one tablespoon more of oil for each batch. (To sear the meat properly, do not crowd the pan and let the meat develop a nice brown crust before turning with tongs.) Transfer the meat to a large plate and set aside.
Add the onions, garlic and balsamic vinegar; cook, stirring with a wooden spoon and scraping the brown bits from the bottom of the pan, for about 5 minutes. Add the tomato paste and cook for a minute more. Add the beef with its juices back to the pan and sprinkle with the flour. Stir with a wooden spoon until the flour is dissolved, 1 to 2 minutes. Add the wine, beef broth, water, bay leaf, thyme, and sugar. Stir with a wooden spoon to loosen any brown bits from the bottom of the pan and bring to a boil. Cover the pot with a lid, transfer to the preheated oven, and braise for 2 hours.
Remove the pot from the oven and add the carrots and potatoes. Cover and place back in oven for about an hour more, or until the vegetables are cooked, the broth is thickened, and the meat is tender. Take out the bay leaf and discard, then taste and adjust seasoning, if necessary. Serve the stew warm — or let it come to room temperature and then store in the refrigerator overnight or until ready to serve. This stew improves in flavour if made at least 1 day ahead. Reheat, covered, over medium heat or in a 180°C oven. Garnish with fresh parsley, if desired.
Tips:
If you don't have a Dutch oven or covered pot appropriate for the oven, the stew can be cooked on the stove. The timing will be the same and it should be cooked over the lowest setting.
Freezer-friendly instructions: The stew can be frozen for up to 3 months. Before serving, defrost the stew in the refrigerator for 24 hours and then reheat on the stovetop over medium-low heat until hot.
Chef tells us this is also suitable for a slow cooker. Cook time would be 8hr minimum at the low setting.
ENJOY!